It is our goal to serve the Lord in spirit and in truth. We strive to live according to the truth of God's word with the love that is taught through the example and teaching of Jesus Christ. Our mission is to show God's love through service to those in need, to seek the lost, and to show others the salvation that is offered by obeying God's word. It is our prayer that you would come to know him and join us in taking up a life of service for him. We study the word, practice what we learn and in the process, grow together in fellowship with one another. We hope that you will join us on our journey to draw closer to God.
"Be devoted to one another in love.
Honor one another above yourselves…"
Romans 12:10
"Therefore go and make disciples of all nations, baptizing them in the name of the Father and of the Son and of the Holy Spirit, and teaching them to obey everything I have commanded you. And surely I am with you always,even to the very end of the age."
Matthew 20:19-20
Our Mission & Vision
The mission of Pomona Church of Christ is to love God, to express his love to others through service, and to spread God's message to the lost. The vision of our church is to glorify our God and Savior, Jesus Christ, to make true disciples throughout all the nations by means of missionary activity and support, to edify believers, and to do all that is possible and scripturally permissible to magnify the name of Jesus.
Our Elders:
I Timothy 5:17 "The elders who direct the affairs of the church well are worthy of double honor, especially those whose work is preaching and teaching."
Pomona Church of Christ is privileged to have three elders who oversee the various affairs of our congregation. Through their passion and dedication to God's word, they ensure that we as a congregation continue to operate in keeping with the truth found in the Bible.
Our Deacons:
I Timothy 3:8 "In the same way, deacons are to be worthy of respect, sincere, not indulging in much wine, and not perusing dishonest gain. They must keep hold of the truths of the faith with a clear conscience. They must first be tested; and then if there is nothing against them, let them serve as deacons."
Every congregation of the Lord's church no doubt has many works to be done to further the cause for Christ. Pomona is no exception and our Elders have appointed several men to ensure that each of these works below is carried out in manner that pleases God.
Chris Hedge – Children's Education
Jon Southerland – Communications
Curtis Southerland – Missions
Morris Lannom – Nursing Home Ministry
Darryl Stockman – Transportation & Nursing Home Ministry
Walter Crafton – Visitation
Our Minister: Paul Darety
As our congregation's primary minister, Paul Darety has a passion for carefully unpacking the truths of Scripture. He has served at Pomona Church of Christ since January 2000 along with the loving support of his wife, Suzanne, and their son Ethan. Paul was born and raised in Milan, TN. He holds a B.A. and M.A. degree in Ministry from Freed-Hardeman University.
Where Can I Serve?
Jesus told us, his disciples, to make disciples of all nations. One of the most important values of Pomona Church of Christ is our mission to spread the gospel to the world. It begins in our own community, and spreads overseas to every nation. Pomona members are involved in a variety of ministries from things such as keeping up our food pantry to working in our youth outreach program or women's jail ministry and even traveling to other countries to help others and teach God's word. We believe that through service to others, we serve God.
I needed clothes and you clothed me, I was sick and you looked after me, I was in prison and you came to visit me.' "Then the righteous will answer him, 'Lord, when did we see you hungry and feed you, or thirsty and give you something to drink? When did we see you a stranger and invite you in, or needing clothes and clothe you? When did we see you sick or in prison and go to visit you?' "The King will reply, 'Truly I tell you, whatever you did for one of the least of these brothers and sisters of mine, you did for me.'
Matthew 25:36-40

Missions
"Therefore go and make disciples of all nations, baptizing them in the name of the Father and of the Son and of the Holy Spirit, and teaching them to obey everything I have commanded you." Matthew 28:19-20
Pomona Church of Christ is thrilled to be part of the spread of God's kingdom around the world. We are currently supporting our good brother, Riley Hendrix, as he works in the Pompano Beach area of Miami, FL in an effort to build congregations among the Hispanic community. Pomona has also been blessed with members willing to spend their time and effort in mission fields across the world including Haiti, Trinidad/Tobago, India, and Albania. In addition to overseas ministries, Pomona is continuously working to spread the gospel in our own community through various outreach programs. For more information about our mission program, come visit us and speak with our Missions Deacon, Curtis Southerland.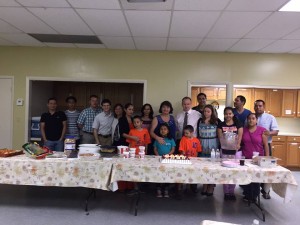 Worship Services
God-honoring worship is something we strive for. It is our goal to conduct our services in a manner that is pleasing to God and uplifting for those who participate. We hope that you will come join us each service as we strive to give God the glory through song, reading scripture, prayer, communion, and bible study.
Teachers
"I will teach you about the power of God; the ways of the Almighty I will not conceal." Job 27:11
At Pomona Church of Christ, our teachers are one of our greatest assets. Through their personal study of God's word, they in turn help us to come to a better understanding of the Bible. Thanks to the abundance of teachers at Pomona, we offer classes for all age groups. For more information on our education program see Chris Hedge, our deacon over this area.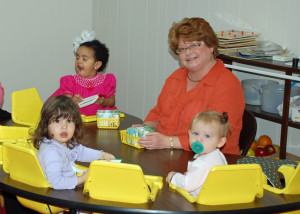 Youth Ministry
"Start off children in the way they should go, and even when they are old they will not turn from it." Proverbs 22:6
The youth of God's church are the future of God's church. Without a strong foundation in the Lord's church, many of our youth will fall away from God. Pomona Church of Christ strongly believes in supporting our youth and ensuring that they learn the skills and christian principles needed to ensure that the church of the future is remains strong and true to the word of God. Throughout each month, youth activities are planned which provide service to others, fun and fellowship with each other, leadership training, and devotion to God. For more information about our youth ministry, see our
section and come visit us at Pomona Church of Christ.
Women's Jail Ministry
Pomona conducts a worship service and Bible study each Sunday morning at our local women's jail. This very rewarding ministry is always in need of women to help conduct services and mentor women who are seeking support to follow a positive direction in their life. For more information on how to get involved with this ministry, see one of our elders.
Visitation Program
Pomona maintains a well organized visitation program to reach out and offer encouragement to the sick and shut-ins. Members of visitation teams have the opportunity to send cards, make phone calls, schedule personal visits, and offer prayers for those who are experiencing hard times and need encouragement. If you would like to become a member of a visitation team see Walter Crafton, our deacon in charge of the visitation program.
NHC Worship Services
For over thirty years, Pomona Church of Christ has conducted worship services each Sunday morning at NHC Nursing Home. Each week a different team assembles to gather residents for a period of Bible study, singing, and prayer. It is an experience that is uplifting for all who participate. For more information about this program check with Morris Lannom, our deacon in charge of this work.
Beautiful 60's Boosters
One of the many great programs at Pomona is our Beautiful 60's program which organizes activities and events for our members 60 years of age or older. Our boosters play an instrumental role and planning these activities and helping to bridge the generational gap between the young and the "young at heart." This is a great opportunity to serve and show respect to our older generation.
Food Committee
We all experience times of hardship and illness where we need a little help from the daily chores. Our food committee works to provide meals for those who have experienced a recent family loss or are home recovering from a recent hospital stay. Through this work we can help carry some of the burdens of others during difficult times. If you would like to help in this area, see one of our elders.
What Activities Do You Have?
Pomona Church of Christ is not a place for spectators. It is a place for team members. Whether you are a five-year old child, a ninety-five year old grandmother, a busy mom, or a businessman with big responsibilities, we want you to be a part of our vibrant church community. Here is how you can learn, serve, and grow closer with your christian family at Pomona Church of Christ.
Youth Group
Pomona greatly values our young people and hold their instruction of God's word as a high priority. Our youth group stays involved in a variety of activities such as weekly Bible studies, community service projects, and recreational time. Weekly devotionals are conducted each Tuesday evening at 6:30 pm. For more information on youth activities, check our Youth calendar or contact Jon Southerland.
Children's Bible Class
Each Sunday morning and Wednesday evening, children get to participate in their own classes. Bible lessons are taught in such a way that every child gets to participate and learn. Among our many teaching volunteers, Pomona is blessed to have several state certified educators who help to make our education program so great. See our children's education deacon, Chris Hedge, for more details.
Women's Bible Class
Pomona is blessed with a great group of ladies that are dedicated to serving God. A special Women's Bible class is held each Wednesday evening to provide them with a special time of interaction.
Children's Bible Hour
Each Sunday evening, a special worship time is held for children 3rd grade and under. Children have a unique opportunity to sing and study in a manner that allows them to feel part of worship. Puppet shows, skits, and crafts help to reinforce the weekly bible lesson and offer a fun way for our children to learn about God.
Singing Night
The fourth Sunday evening of each month is dedicated to a special worship service of song and praise. We hope you'll come to make a joyful noise to God as we sing to him.
Beautiful 60's
Once you get past sixty, the fun has just begin. Whether retired, just plain tired, or active as ever, the over-60 group of Pomona Church of Christ provides refreshment, ministry, and times of valuable interaction. Monthly activities are held that offer great fun and fellowship…and awesome food!

It is the purpose and commitment of the Pomona Church of Christ Youth Group to gain a greater knowledge of the truth of God's word, to spread his gospel to the world, and to serve him by service to others while building strong Christian bonds through fellowship and unity with one another.
Goals of the Youth Program
To encourage our young people, through study and fellowship, to obey the gospel by being baptized for the remission of sins, to take on a life of service to God, and gain the reward of Heaven.

To instruct and train young Christians in the leadership roles necessary to maintain and further the Lord's church and to provide them with opportunities to exercise what they learn.

To build a unified and loving youth group through fellowship and service activities that help build strong relationships and offer an environment that is safe physically and emotionally.

To promote an open and positive line of communication between young people, their parents, and church leadership.
Objectives to Reach the Goals:
Encourage all youth who meet the grade requirements to participate actively in the youth program.
Provide an opportunity at each youth event for any member of our youth group to respond to the Lord's invitation of repentance and salvation.
Maintain weekly youth bible study periods that offer thoughtful instruction for living a Christian life.
Provide gender appropriate training on service and leadership in the Lord's church.
Provide opportunities for young Christians to put into practice the service and leadership training they have received.
Provide children and their parents with sufficient notice and details of youth events to ensure maximum participation of youth group members.
Identify and develop activities that are appropriate and of interest to the youth group and their parents.
Ensure that all children are taught and regularly reminded of the plan of salvation.
Talk with children individually who have not been baptized by the end of their junior year.
Ensure that each activity provided maintains an atmosphere that promotes Christian values and maintains the integrity of worship and fellowship as outlined in the bible.
Encourage children through personal visits and interactions.
Communicate individually with parents/guardians to allow comments and feedback in a manner which promotes a positive and respectful interaction among parents, children, and youth leadership.
What We Expect From Our Youth
1. To devote themselves to daily prayer and bible study. I Thessalonians 5:16-18
2. To support and help each other and to grow and develop as Christians: I Thessalonians 5:11
3. To invite and encourage others to attend worship services and youth activities. – Mark 16:15
4. To be respectful of others and honor those who teach, assist, lead, chaperon, or hose events and to help with set up/clean up for those events. 1 Peter 2:17
5. To always try their best to conduct themselves in manner that reflects a Christian lifestyle. – Matthew 5:16
Where? What? When?
Youth Devotionals
Each week, youth devotionals are scheduled to give our teens a chance for fellowship, fun, and bible study. Check out our Youth section for details on upcoming devotionals.
Wednesday Afternoon Service
Beginning November 6th and running through March 9th, a Wednesday afternoon class is conducted from 2:00 pm to 3:00 pm for those who prefer to participate in a midweek bible study during daylight hours.
March 2016 Events
March 3rd – Men's night out at Catfish Kitchen beginning at 6:00 pm.
March 6th – Prayer time in the Youth Group Room at 5:30 pm. This monthly event is an time for members of all ages to come together and pray, for 15-20 mins, about any specific needs that may be present in our individual lives or in our community.
March 12th – Beautiful 60's event. Check our weekly bulletin for more details.
March 13th – Elders/Deacons/Preacher meeting. Anyone in the congregation with specific topics that may need to be discussed can bring it to the attention of one of the elders or deacons.
March 20th – Bible Hour Easter Egg Hunt. An Easter egg hunt will be held at Robins Park after morning worship for 3rd grade and younger.
March 26th – Proverbs 31 Ladies Devo. This monthly, ladies only, event is a study on the principles of the Proverbs 31 woman. Service project crafts are also conducted to help others within our congregation or community. See Melissa Southerland for more information or if you'd like to host an event in your home.
Directions
Office Hours: Monday-Friday from 8am to 5pm.
Church Location & Address: 1705 Hwy 46 South, Dickson, TN 37055 (map)
Telephone & Fax: Tel: (615) 446-9317
If you would like directions or more information about our congregation, please call or email us at pomonachurchofchrist@gmail.com.
To contact us during regular office hours please call or email below.
Phone: 615-446-9317
Email: pomonachurch@bellsouth.net
Paul Darety (Pulpit Minister)
Email: pdarety@bellsouth.net