Where Can I Serve?
Jesus told us, his disciples, to make disciples of all nations. One of the most important values of Pomona Church of Christ is our mission to spread the gospel to the world. It begins in our own community, and spreads overseas to every nation. Pomona members are involved in a variety of ministries from things such as keeping up our food pantry to working in our youth outreach program or women's jail ministry and even traveling to other countries to help others and teach God's word. We believe that through service to others, we serve God.
I needed clothes and you clothed me, I was sick and you looked after me, I was in prison and you came to visit me.' "Then the righteous will answer him, 'Lord, when did we see you hungry and feed you, or thirsty and give you something to drink? When did we see you a stranger and invite you in, or needing clothes and clothe you? When did we see you sick or in prison and go to visit you?' "The King will reply, 'Truly I tell you, whatever you did for one of the least of these brothers and sisters of mine, you did for me.'
Matthew 25:36-40

Missions
"Therefore go and make disciples of all nations, baptizing them in the name of the Father and of the Son and of the Holy Spirit, and teaching them to obey everything I have commanded you." Matthew 28:19-20
Pomona Church of Christ is thrilled to be part of the spread of God's kingdom around the world. We are currently supporting our good brother, Riley Hendrix, as he works in the Pompano Beach area of Miami, FL in an effort to build congregations among the Hispanic community. Pomona has also been blessed with members willing to spend their time and effort in mission fields across the world including Haiti, Trinidad/Tobago, India, and Albania. In addition to overseas ministries, Pomona is continuously working to spread the gospel in our own community through various outreach programs. For more information about our mission program, come visit us and speak with our Missions Deacon, Curtis Southerland.

Worship Services
God-honoring worship is something we strive for. It is our goal to conduct our services in a manner that is pleasing to God and uplifting for those who participate. We hope that you will come join us each service as we strive to give God the glory through song, reading scripture, prayer, communion, and bible study.
Teachers
"I will teach you about the power of God; the ways of the Almighty I will not conceal." Job 27:11
At Pomona Church of Christ, our teachers are one of our greatest assets. Through their personal study of God's word, they in turn help us to come to a better understanding of the Bible. Thanks to the abundance of teachers at Pomona, we offer classes for all age groups. For more information on our education program see Chris Hedge, our deacon over this area.
Youth Ministry
"Start off children in the way they should go, and even when they are old they will not turn from it." Proverbs 22:6
The youth of God's church are the future of God's church. Without a strong foundation in the Lord's church, many of our youth will fall away from God. Pomona Church of Christ strongly believes in supporting our youth and ensuring that they learn the skills and christian principles needed to ensure that the church of the future is remains strong and true to the word of God. Throughout each month, youth activities are planned which provide service to others, fun and fellowship with each other, leadership training, and devotion to God. For more information about our youth ministry, see our
YOUTH
section and come visit us at Pomona Church of Christ.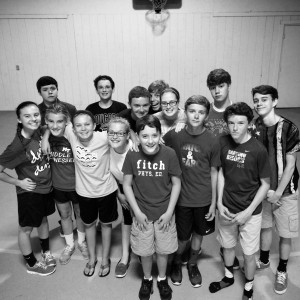 Women's Jail Ministry
Pomona conducts a worship service and Bible study each Sunday morning at our local women's jail. This very rewarding ministry is always in need of women to help conduct services and mentor women who are seeking support to follow a positive direction in their life. For more information on how to get involved with this ministry, see one of our elders.
Visitation Program
Pomona maintains a well organized visitation program to reach out and offer encouragement to the sick and shut-ins. Members of visitation teams have the opportunity to send cards, make phone calls, schedule personal visits, and offer prayers for those who are experiencing hard times and need encouragement. If you would like to become a member of a visitation team see Walter Crafton, our deacon in charge of the visitation program.
NHC Worship Services
For over thirty years, Pomona Church of Christ has conducted worship services each Sunday morning at NHC Nursing Home. Each week a different team assembles to gather residents for a period of Bible study, singing, and prayer. It is an experience that is uplifting for all who participate. For more information about this program check with Morris Lannom, our deacon in charge of this work.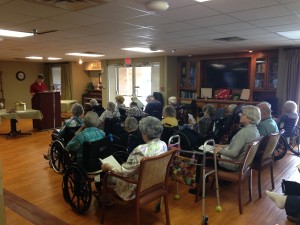 Beautiful 60's Boosters
One of the many great programs at Pomona is our Beautiful 60's program which organizes activities and events for our members 60 years of age or older. Our boosters play an instrumental role and planning these activities and helping to bridge the generational gap between the young and the "young at heart." This is a great opportunity to serve and show respect to our older generation.
Food Committee
We all experience times of hardship and illness where we need a little help from the daily chores. Our food committee works to provide meals for those who have experienced a recent family loss or are home recovering from a recent hospital stay. Through this work we can help carry some of the burdens of others during difficult times. If you would like to help in this area, see one of our elders.